Yesterday was a fantastic day to eat and run. The weather was total crap, so I was stuck on a treadmill, but there were no less than 7–count em–SEVEN eastern European and Russian women in my BodyPump class 6′ and up.
That means I didn't look like the teacher in the toddler camp, or I that I was lording over munchkinland. I was a part of the MAJORITY. I can't tell you how weird it was to not only be surrounded by a crew of my fellow Amazonians, I was actually SHORTER than some of them. I wanted to start a club–or a kickline. I couldn't decide. (take THAT Rockettes! Who says you can't be 6′ tall and in a kickline? You and your silly live-action 3d show; and your baby Jesus flying with Santa to hang out with the three Wise Men.
I did a quick six miles on the dreadmill.
8:55
9:11-I had an itch that I kept trying to scratch
8:30
8:15
8:10
8:00
Total 50:21 of solid sweat. Holla.
In case you weren't aware. It's WHAT I ATE WEDNESDAY! I see you shiver, with antci—-pation. (bonus points to those who get that reference.)
Breakfast was fit for an 80 year old, so it was perfect for a red tent week, when I want to be post-menopausal already.
cream of wheat with maple and cinnamon. I could be fancy and call it "farina" but really, you know I'm just a hillbilly in a fancy city.
Lunch was a mish mash of whole wheat pretzels, cheese, and veg. Because it was easy and the Captain wanted cheese.
If you read last night's blog post, you know that this is slow cooked pork ragu over italian bread. It's divine-really.
Snacks were a crap ton more veggies, and these babies.
Homemade Cashew Joys. (aka, guess who had a big bag of coconut she needed to use up!?)
Ingredients
2 cups sweetened flaked coconut
1 egg white
1/3 cup sweetened condensed milk
2T flour or Gluten Free rice flour
1 tsp vanilla extract
1/4 tsp salt
8 oz milk or dark chocolate-chopped
Instructions
Preheat oven to 350F
Beat the COLD egg white until soft peaks form.
Fold in sweetened condensed milk, vanilla, flour and salt.
Scoop into one inch scoops onto a silpat or parchment lined sheets
push a cashew into the tops of each one
bake for 20 minutes
melt chocolate in double boiler or microwave
dip the ENTIRE tops of each coconut ball into the chocolate
let firm up in the fridge overnight. (not bloody likely. I lasted 10 minutes)
http://breakfasttobed.com/2011/11/30/the-mayor-of-munchkinland-can-never-be-a-rockette/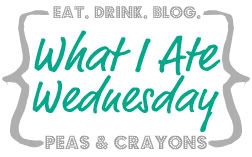 There ya go, batch 14.
Do you like almond joy bars?
Would you like them better if they were cashews?